2019 INTERNATIONAL PET PHOTOGRAPHER OF THE YEAR
Anne Geier started photographing with her first dog, Cindy. The more she photographed Cindy, the stronger her passion for dog photography grew. Fast forward to today, and Anne is still creating beautiful dog photography from the small Austrian village of Tauplitz. She loves to travel and hike with her two rescued dogs, Finn and Yuri.
EMERGING PET PHOTOGRAPHER OF THE YEAR
STEWART CROLL
Perthshire, Scotland
PORTRAIT PHOTOGRAPH OF THE YEAR
Christine Johnson | pawsforaphoto
Warrington, UK
ACTION PHOTOGRAPH OF THE YEAR
PETS AND THEIR PEOPLE PHOTOGRAPH OF THE YEAR
Marchien Heidstra | Heidstra Fotografie
Gasteren, netherlands
OPEN PHOTOGRAPH OF THE YEAR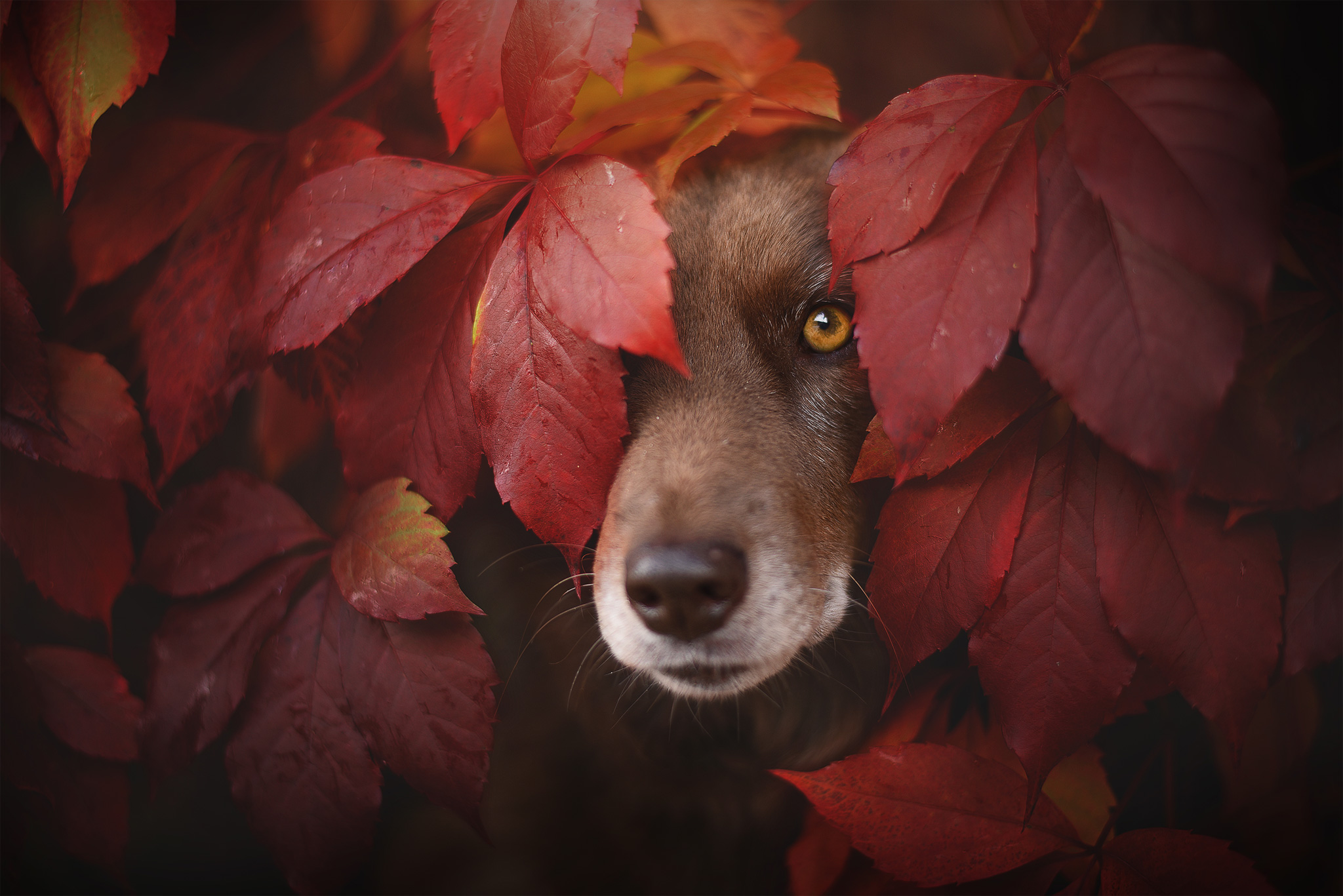 PHOTOGRAPHER: ANNE GEIER, AUSTRIA
This portrait stood out for me right from the start. The beautiful variations in reds and browns, the sweet expression in the dog's eye, the soft, creamy edit. I love that you've captured a gentle moment. The closed mouth of the dog doesn't feel too serious or overly focused on a treat/toy/owner, it feels quiet and contemplative.
This is the sort of image that I would be so proud to hang on my wall - not only does it capture the dog beautifully, it stands alone as a gorgeous piece of artwork. Incredible work, thank you for sharing!
TOTAL SCORE: 9.5/10
PHOTOGRAPHER: ANNE GEIER, AUSTRIA
Of all the stunning images entered, this image is the one that I visualise when I think of the 2019 International Pet Photographer of the Year Awards.

The camera settings, viewpoint and the lens choice feel deliberate and calculated. The lighting and the edit compliment the moment captured so well, intensifying the emotion. I feel as though I am right there on that mountain. As a photographer that is my goal, to transcend the viewer into the moment. Anne has not only accomplished this, but her image also makes me want to grab my hiking boots and enjoy a moment like this with my own dog.
TOTAL SCORE: 10/10
PHOTOGRAPHER: DORINE VAN DER VOORDEN, NETHERLANDS
An absolutely gorgeous portrait of a beautiful dog that draws me in with direct eye contact and a somewhat cheeky, quizzical expression - the half open mouth and those little teefies absolutely make this! The perfectly sharp subject is enveloped in layers of soft and creamy bokeh, with the subject subtly outlined with rim light and that perfect golden glow from behind. The warm, earthy colour palette combined with clean, pure whites is also an absolute dream. Amazing work!
TOTAL SCORE: 10/10
PHOTOGRAPHER: MIRKA KOOT, NETHERLANDS
This is my winner! Great photo that tells a story!
This was a difficult choice to make, but the balance in colors, light and post production were the deciding factors.
What a great photo to look at - very original and creative!
TOTAL SCORE: 10/10
PHOTOGRAPHER: CHRISTINE JOHNSON, UK
There are so many things that I love about this image. The lighting and detail in the dog's fur and collar is excellent. The tones of this image are so complimentary - and last but not least, that expression is perfection. Well done!

TOTAL SCORE: 10/10
SHORTLISTED PHOTOGRAPHERS
Andreas Romijn is an enthusiastic and self-driven dog photographer from The Netherlands.
With his wide knowledge about dog behaviour, he effortlessly connects with dogs, capturing portraits that are authentic and full of personality.
With a skilful use of studio lighting, Andreas creates extraordinary photographic artwork.
Nicole Begley Photography
Hair of the Dog Blog and Academy
Nicole Begley, M.Photog.Cr., CPP, is a zoological animal trainer turned pet photographer and educator. She is the founder of Hair of the Dog, an online community in which she empowers pet photographers to turn their dreams into reality and helps them create successful and profitable businesses. Nicole has authored a book "Pet and Equine Photography for Everyone", available on Amazon.
She established Nicole Begley Photography in Pittsburgh, PA in 2010 but now serves the market of Charlotte, NC. Nicole shares her home with her husband, two small humans, and her Puerto Rican rescue dog Zoey. Oh yes, she is also Chief of Staff to Emma the cat. She is the creator of the #selfiedog series, a travel addict, and chocolate martini connoisseur.
Charlotte Reeves Photography
Learn Pet Photography
Charlotte is an award-winning Australian photographer based in Brisbane with 12 years experience photographing pets and 6 years teaching pet photography. Her style incorporates creative use of natural light, location and expression to produce vibrant and emotive work highly praised by her clients.
Addicted to creating lightbulb moments for students, Charlotte relishes simplifying tricky concepts, and helping people achieve their goals by making the learning fun, practical, and positive.
THE CATEGORIES
INTERNATIONAL PET PHOTOGRAPHER OF THE YEAR
PORTRAIT
ACTION
PETS AND THEIR PEOPLE
OPEN ENTRY
EMERGING PET PHOTOGRAPHER OF THE YEAR
OVER $2500 IN PRIZES
ONE YEAR MEMBERSHIP TO THE PET PHOTOGRAPHERS CLUB (VALUE $120)
LEARNING PET PHOTOGRAPHY REAL SHOOTS EPISODE 1 (VALUE $99)
the photobizx fb ads course for photographers (value $197)
PLUS GO INTO THE DRAW TO WIN OUR GIVE-AWAY PRIZE!
HUGE THANKS TO OUR SPONSORS FOR THESE INCREDIBLE PRIZES!


MAXIMUM OF 1 ENTRY PER CATEGORY (MAXIMUM FOUR ENTRIES PER PHOTOGRAPHER IN TOTAL).

NO ANIMALS MAY BE HARMED IN THE MAKING OF THE IMAGE.

IMAGES MUST FEATURE DOMESTIC ANIMALS (NOT WILDLIFE).

NO STOCK PHOTOGRAPHY.

THE USE OF TEXTURE OVERLAYS IS ALLOWABLE PROVIDED THE ORIGIN IS PHOTOGRAPHIC AND PRODUCED BY THE ENTRANT.

REMOVAL OF ELEMENTS INCLUDING THE REMOVAL OF BLEMISHES, STRANDS OF HAIR, LEASHES OR BACKGROUND ELEMENTS IS ALLOWABLE.

PLEASE DO NOT ADD ANY WATERMARKS TO YOUR ENTRIES AS THE JUDGING IS ANONYMOUS. ALL ENTRIES WITH WATERMARKS ON WILL BE DISQUALIFIED.
JPG FILES ONLY, UNDER 5MB.
EACH IMAGE SHOULD USE A DIFFERENT FILE NAME.

AVOID SPACES AND NON-ALPHANUMERIC CHARACTERS IN FILE NAMES.

IT IS RECOMMENDED TO ENTER USING A DESKTOP/LAPTOP COMPUTER.
BY ENTERING THIS COMPETITION, YOU AGREE THAT YOU ARE THE CREATOR AND COPYRIGHT OWNER OF THE ENTERED IMAGES

YOU AGREE TO THE COMPETITION TERMS AND CONDITIONS.

ENTRIES SUBMISSION BY MIDNIGHT AEST, MONDAY 22ND JULY 2019.